There's more than one way to 'skin a cat', as the saying goes; and short term traders believe a quicker trading time frame is of great benefit, protecting the portfolio from large retracements in markets while enabling the capture of large intraday and multi-day moves which may be considered noise to other investors.
Short Term programs can find return drivers different than their longer term, trend following cousins, and our short term program is amongst the top ranked programs* in that discipline. For more information, we'll send three separate reports with:
Performance details including equity graphs, monthly tables, and all the relevant statistics

Due diligence information on the sub-manager including trading style and backgrounds

Performance report comparing the trend fund to 20 leading trend followers
Plus our monthly research and performance summary on each of the funds on the Attain platform.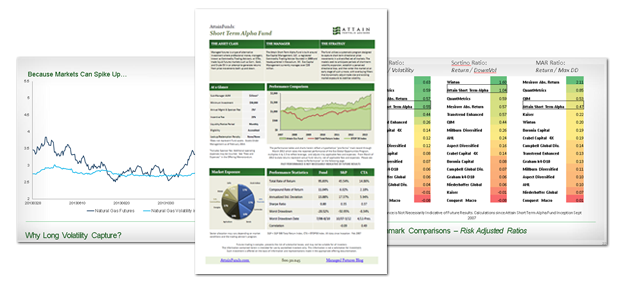 << Please complete the form to the left and we will send the reports to you via email
*Semi-Annual Managed Futures Rankings posted Feb'16
(Disclaimer: Past performance is not necessarily indicative of future results)