Unlike investments in ETFs like USO or GLD which require the commodity they follow to keep going up in order to make money, Relative Value strategies analyze not whether prices will rise or fall, but instead the "spread" between markets in anticipation of the difference widening or narrowing.
Our Commodity Relative Value Fund is non correlated to stocks, bonds, commodities, and even managed futures; all the while providing significant commodity exposure with over 92% allocated to commodities.
For more information, we'll send three separate reports with:
Performance details including equity graphs, monthly tables, and all the relevant statistics

Due diligence information on the sub-manager including trading style and backgrounds

Performance report comparing the relative value fund to 20 leading relative value funds
Plus our monthly research and performance summary on each of the funds on the Attain platform.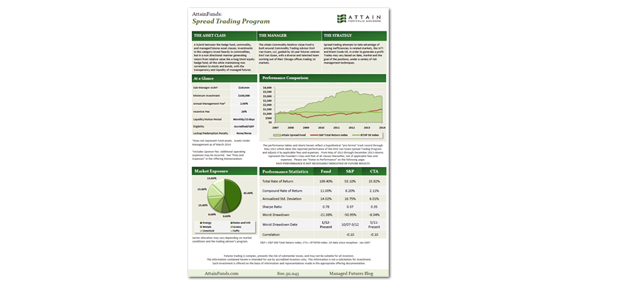 << Please complete the form to the left and we will send the reports to you via email